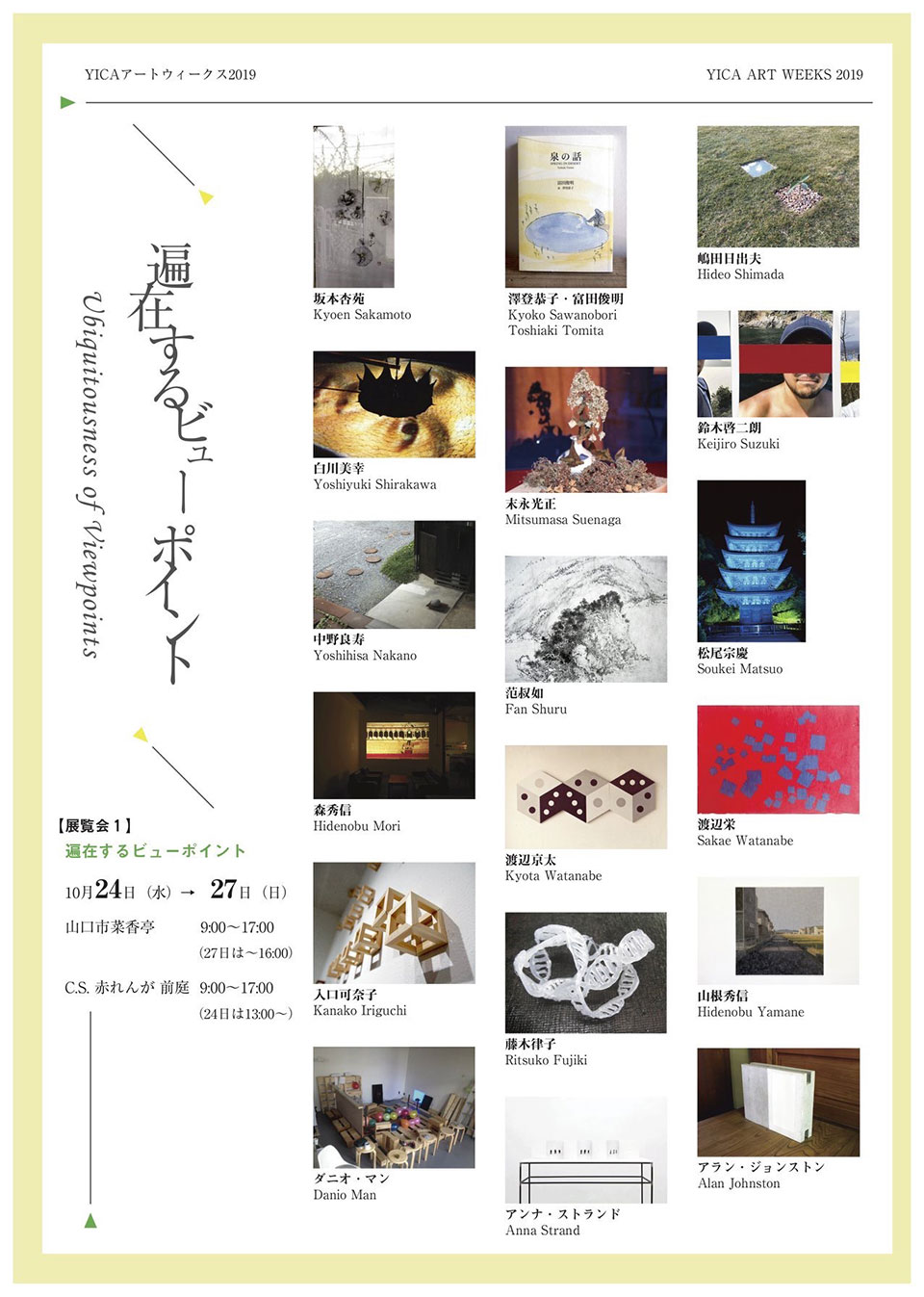 2019.10.24
Related-events
⬛︎Yamaguchi City Saikotei
YICA Art Weeks 2019: Ubiquitousness of Viewpoints
Oct.24-27
9:00 - 17:00 (Last day ~16:00)
Group exhibition of contemporary art on the themes of pan- orama, landscape scroll painting and site-speci c art.
Artists | Sakamoto Kyoen, Sawanobori Kyoko & Tomita Toshiaki Shimada Hideo, Shirakawa Yoshiyuki, Suenaga Mitsumasa, Suzuki Keijiro Nakano Yoshihisa, Fan Shuru, Matsuo Soukei, Mori Hidenobu, Watanabe Kyota, Watanabe Sakae, Iriguchi Kanako, Fujiki Ritsuko Yamane Hidenobu, Alan Johnston, Danio Man, Anna Strand
⬛︎Yamaguchi Center for Arts and Media [YCAM] Studio C
Machinaka-Daigaku Special Lecture
Panoramic painting of Thun Museums, Switzerland
Nov. 1
19:00 - 20:30
Introduction of the panoramic painting of un Museum, Switzerland.
Lecturer | Helen Hirsch
⬛︎Yamaguchi City Saikotei Symposium: Ubiquitousness of Viewpoints. Locality and Art
Nov.2
18:00 - 20:30
Cross talk on the role of art museums and art projects in the region.
Panelists | Helen Hirsch, Suizu Isao, Yoshizaki Kazuhiko, Nakano Yoshihisa Modelator | Fujikawa Satoshi